Cuando estás navegando por el inicio de tu Instagram ¿Qué es lo que te llama la atención? Primeramente, puede que sean las imágenes o fotografías de las cuentas que sigues, sin embargo, después tu mirada se dirige al texto, si el título es bueno, te tomarás el tiempo de leer completo el texto, o de por lo menos mirar esa publicación por más de 1 segundo, pero si no, probablemente sólo le des like y continúes dando scroll.

Bueno, pues los seguidores que siguen tu cuenta, funcionan igual. Es erróneo pensar que nuestros seguidores o clientes potenciales son alguna clase de alienígena que funciona diferente a ti, cuando la realidad es, que todos somos seres humanos, que compartimos comportamientos similares, al momento de navegar.

¿Por qué te digo esto? Porque ya no sólo se trata de hacer fotos bonitas, imágenes llamativas en tu cuenta, por supuesto que son importantes porque con ellas atraerás, pero si realmente quieres enganchar, tus textos, deben ser igual de buenos.

Tienes que estar consciente que, a estas alturas, esos textos con frases simples y emojis, ya no funcionan porque tantos han replicado esta estrategia que ahora, aburren. Así mismo, poner solamente tus datos de contacto o venta, es totalmente fastidioso.

Es por ello, que, en esta nota, te enseñaré mi fórmula para darle una mejor estructura a tus textos y transfórmalos en textos con valor, que podrás usar en todas tus plataformas, no sólo en Instagram; además te hablaré de una de las tendencias del 2020: la hiperpersonalización.   
Tengo que empezar por decirte, que no importa si existen miles de proyectos que estén ofreciendo lo mismo que tú, tú puedes destacar entre ellos, porque ninguno tendrá el enfoque, estilo y personalidad que tú tienes, lo que hace que lo que publiques se vuelva más personal, memorable y, sobre todo, enganche.

De acuerdo a Walkers (consultora especialista en la experiencia del cliente), el 78% de los usuarios de internet dicen que le compran a marcas que ofrecen contenido de su interés, por tanto, antes de iniciar a crear textos, tienes que conocer a quiénes realmente te diriges.
Lo primero en lo que debes trabajar es en saber quién o quiénes son tus clientes ideales. Te he escrito anteriormente una nota que te ayudará a definir tu cliente ideal, pero, además, tu identidad, si quieres leerla da clic aquí.

Ya no se trata de "hablarle a todo el mundo", si no, en pensar literalmente en esa persona de carne y hueso, como se llamaría, que edad tiene, a que se dedica, pero, sobre todo, cuáles son sus aspiraciones, en qué horarios se mete a ver sus redes, que es lo que está buscando o le interesa, así mismo, tienes que saber cómo es que tu resuelves esa necesidad o eso que tanto quiere.

Conocer estos aspectos nos ayudará a saber cómo generar emociones en nuestros textos, que hagan que conecte con nuestro mensaje, te hablo de hacer que vean, sientan, saboreen, oigan e incluso perciban olores, mediante nuestros textos y, los recuerden por siempre.

Tu seguidor prestará atención al contenido que este personalizado para ella o él, que le hable directamente y que lo haga sentir que es únic@. Utiliza el TÚ, no el USTEDES.

Una vez que sepamos a quien le hablamos, ahora sí, podemos empezar a hablar de la estructura en nuestras publicaciones.

Hay algo que quiero mostrarte y que tal vez no le hayas prestado total atención, cuando públicas. En el inicio de tu seguidor, tu publicación, aparecerá de esta manera:
¿Qué quiere decir esto? Que tienes de 30 a 40 letras para enganchar a tu seguidor y hacer que le dé clic a la opción de …más.

Por tanto, si la primera línea de tu publicación, no genera emoción o llama la atención, simplemente seguirán dando scroll y a veces, ni un like te dejará.

Quiero que te quedes con la frase de David Ogilvy el padre de la publicidad moderna:
Y lo que queremos es que la única persona que leyó completo, sea tu cliente ideal.

Por eso hay que aprovechar esos segundos de atención para dejar claro el objetivo de nuestra publicación, aportar, vender, informar o entretener.

Entre estas dos publicaciones ¿Cuál te llama más la atención?
Aquella que con letras mayúsculas (Ejemplo #1), te dice sintetizado lo que podrás leer en la publicación y así saber si es de tu interés o la publicación que te dice todo (Ejemplo #2), pero a la vez nada y al final, no estás segur@ si es para ti.

Enfócate en que tu título diga el objetivo de tu publicación.

Después de definir un título que encante, ahora viene la parte de darle una correcta estructura a nuestros textos, te mostraré ejemplos:
En el ejemplo #1, mira la publicación, su texto y dime ¿Qué piensas al verlo? Yo te diré que veo, inicialmente, solo veo un enorme párrafo, y de todo lo que contiene, nada me llama realmente la atención.

Ahora quiero que veas el ejemplo #2, esta otra publicación ¿Qué diferencia percibes? Yo te digo, este texto está divido en párrafos, lo cual me facilita leerlo y saber cuándo termina cada idea. Segundo, utiliza emojis para cerrar párrafos y lo más importante, aunque es un párrafo largo, se ve ordenado y visualmente simplificado.
¿Y cómo puedes dividir tus párrafos? Yo realmente después de finalizar cada párrafo, le pongo un punto (.) o un emoji, así es como logro que mis textos queden ordenados, si bien esto me ha funcionado, no sucede con todos, por ello, puedes utilizar dos aplicaciones para lograrlo: instaspacer o space. Ambas funcionan en Android e iOs.
¿Y cómo puedes estructurar tus párrafos? Recuerda que estamos contando historias, momentos, sucesos o aportando, por tanto, te comparto la fórmula que he creado para mis publicaciones diarias y que me ha permitido comunicar:

► TÍTULO – Debe ser tu objetivo. Lo que deseas comunicar en una frase.

► INTRO – Cuenta tu historia y muestra tu personalidad. Me refiero al porque, de tu publicación, de lo que hablarás, cual es el motivo, que te llevo a hablar y porque estás hablando de ello.
Te recomiendo usar máximo 2 párrafos.

► TU PREMISA – Es tu mensaje principal. Es tu objetivo desglosado. Hablar del tema completo, el tema en concreto.
Aquí no hay límite de párrafos, pero piensa en si tu audiencia o incluso tú, lo leerías.

► EL CIERRE – Es tu conclusión + despedida + call to action. Habla de los beneficios o conclusiones finales, tu experiencia, agradece a tu audiencia, haz tu llamado a la acción.
Te recomiendo usar máximo 3 párrafos.

Te dejo aquí, un ejemplo: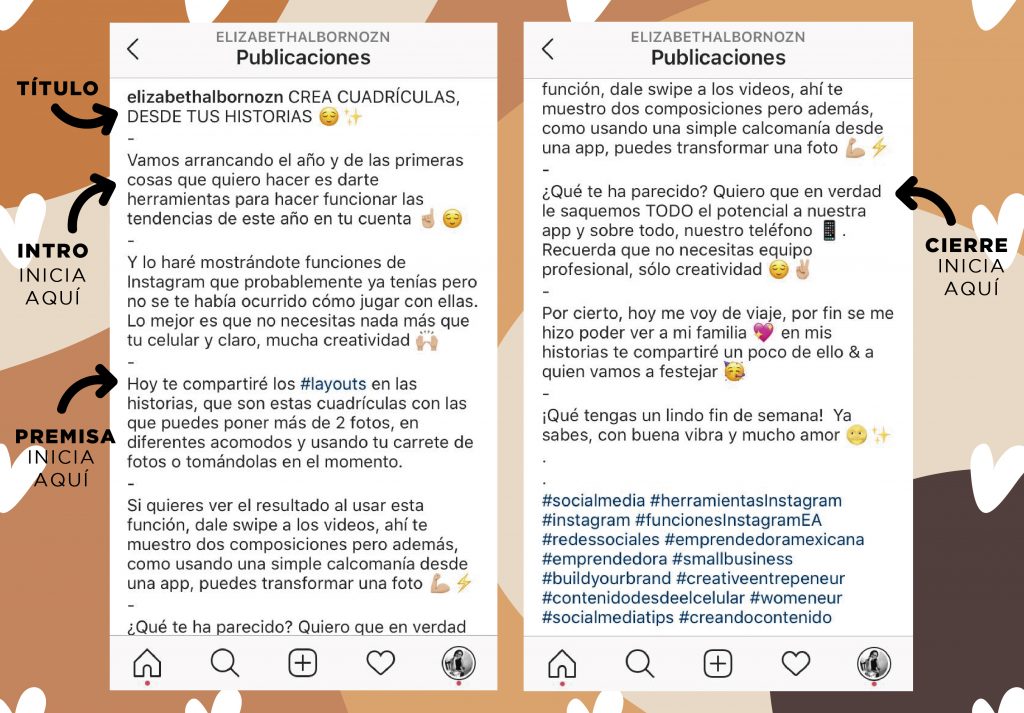 Para realizar una publicación de venta, puedes usar la misma fórmula, pero tu intro debe ser solamente de 1 párrafo y debe mostrar el problema de tu cliente.

Tu premisa, debe mostrar la solución o beneficio que estás aportando y tu cierre hacerle ver a tu cliente lo que se perderá, si no adquiere lo que tu ofreces, de igual manera, tu llamado a la acción o como puede adquirir lo que ofreces.

Recuerda se trata de informar a tu seguidor, tu propuesta de valor.
Por último, tenemos los hashtags, que puedes usarlos o no dentro de tu publicación. Si decides usarlos, quiero mostrarte el porqué de usarlos a consciencia, adicional de que, si no eliges los correctos, tu contenido terminará posicionándose por todos lados, menos donde realmente te importa.
Te mostraré con ejemplos, mira el ejemplo #1, los hashtags son casi del mismo tamaño que el texto.

En el ejemplo #2, esta publicación tiene menos hashtags, que me permiten centrarme en el texto principal.

Hacer un párrafo enorme de hashtags, hará que tu publicación, pierda cierto encanto.

¿Y cómo saber si estamos haciendo o no un buen trabajo? Lo primero, tu engagement subirá, lo segundo, que debes estar logrando tus objetivos mensuales.

Para saber que contenido funciona y cuáles no, entonces ve a tus insights (estadísticas), de tu publicación o de todas tus publicaciones. Buscamos aquellos post en los que los comentarios, compartidas y guardados, brillaron.

Prueba y mide, esa es la única manera. No hay mejor manera de saber si vas por buen camino que preguntando. Haz encuestas en tus historias, de que contenido les ha gustado más.

Ya para cerrar quiero darte unas últimas herramientas que pueden serte muy útiles:

✔ Si no tienes ni idea de que escribir, pero ya sabes que temas le interesan a tu cliente ideal, utiliza la herramienta de Vilma Núñez llamada Más Titulares, solamente ingresa una palabra y obtén un montón de ideas.

✔ Ahora, si ya sabes quién es tu cliente ideal pero no estás seguro cuáles son las dudas que tiene o lo que está buscando, utiliza Answer the public, escribe una palabra y te saldrán todos los resultados de búsqueda de Google y Bing, conforme a esa palabra. La opción gratuita no te deja segmentar por país y ser más específico, a pesar de ello, te da una muy buena referencia para crear contenido.  

✔ Por último, si quieres pulir tus textos, entonces usa Lorca, crea tu cuenta (es gratis) y te dirá, cuando tengas faltas de ortografía, si has repetido demasiadas palabras, adjetivos, adverbios, en fin, te ayuda a mejorar tus textos.

¡Y eso ha sido todo! Recuerda, te he dado una fórmula para estructurar tus publicaciones, pero con tu personalidad, harás que se transformen en textos completamente únicos que encanten a tu audiencia.

¿Qué te ha parecido esta guía? Espero que te aporte mucho, pero sobre todo que te ayude a alcanzar tus metas como proyecto. Si piensas que esto le puede servir a otr@ emprendedor@, no dudes en compartir.

Sólo me queda decirte ¡Gracias por leerme! ¡HASTA LA PRÓXIMA!